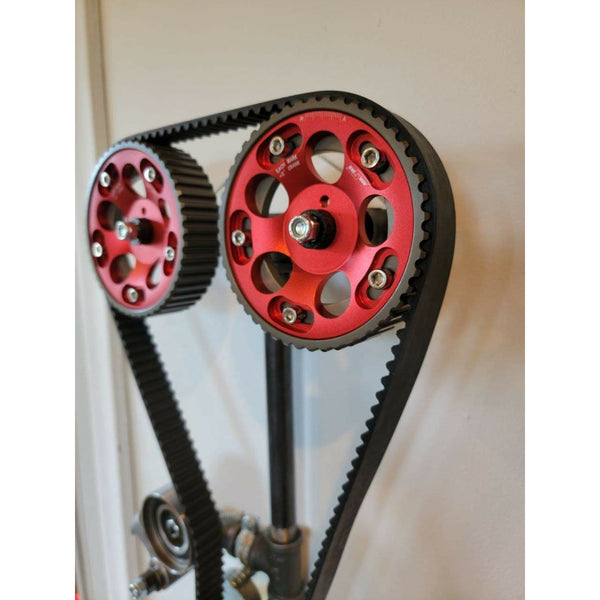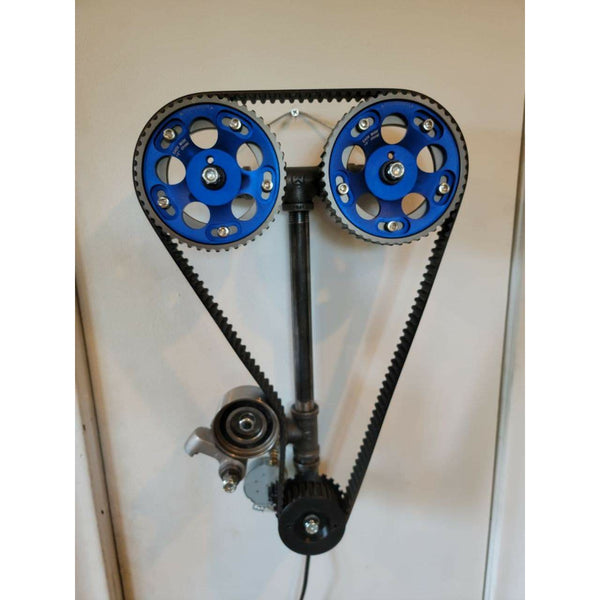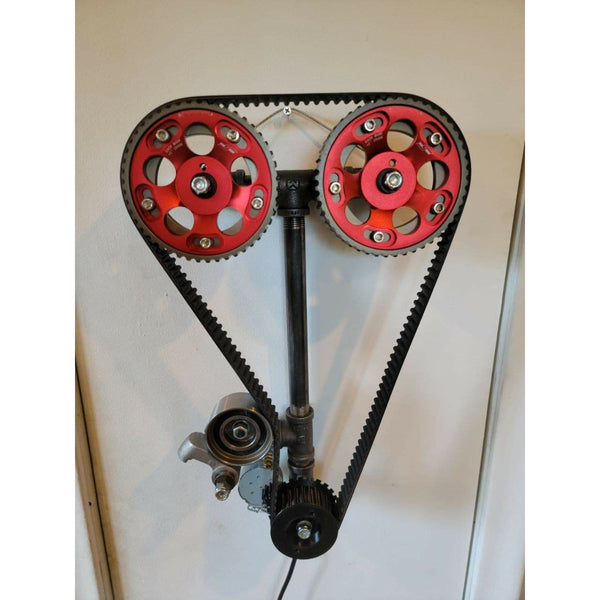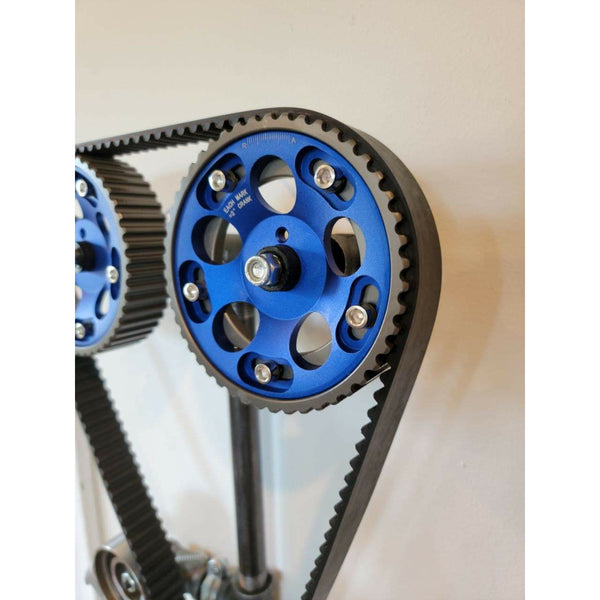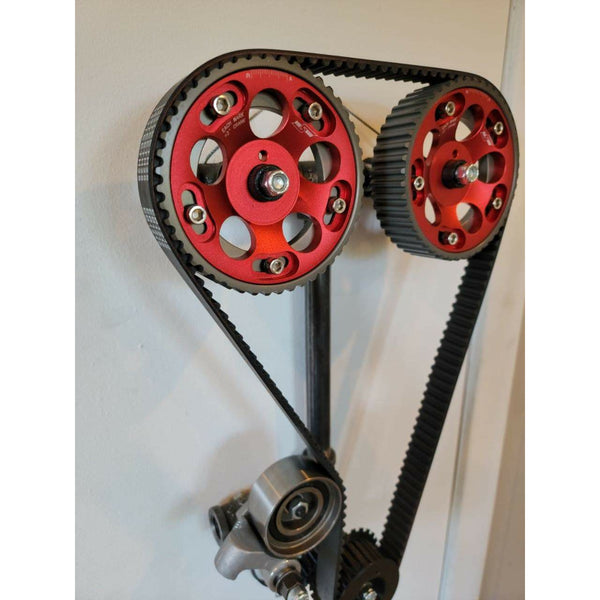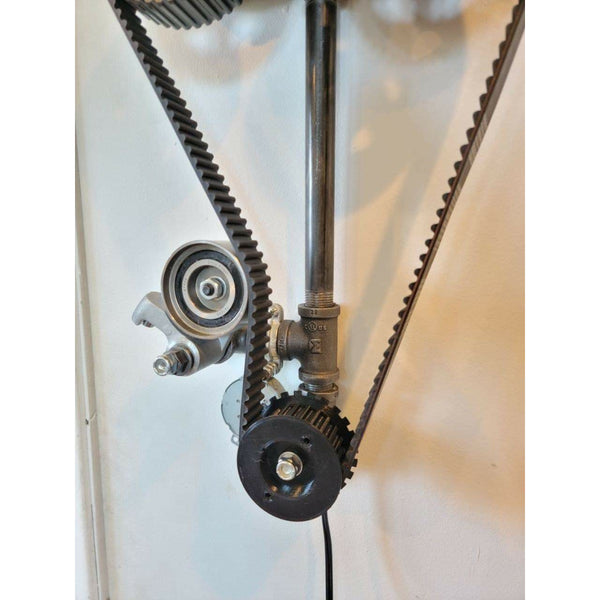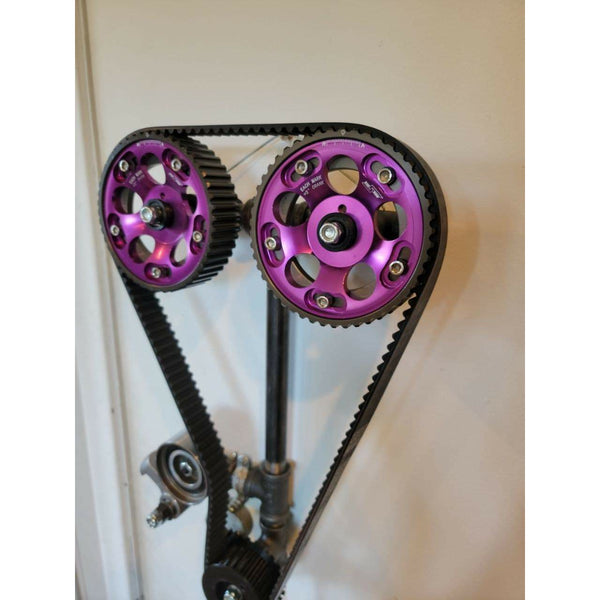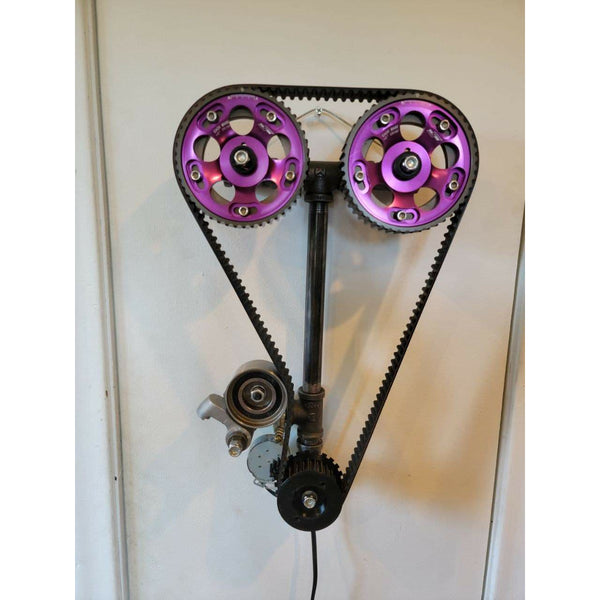 This motorized, rotating belt art piece is made from 2jz engine cam pulleys, an authentic tensioner and belt. This uses a synchronous motor to rotate (see video) and contains many bearing hubs to allow the cams to rotate seamlessly. This so far comes in purple, red, and blue. If you would like a different color, just contact me and I'll see what is possible. I will have the option, in the future, for a blue racing belt add on. 
The motor runs off of 120v and comes with a 6ft cord with a built in rocker switch. The entire clock has a rigid structure of black pipe. Using 3d printing, all adapter parts and gears were designed and 3d printed to allow the piece to function properly. The tensioner and motor are in spring-hinge mechanisms that allow slipping when placed under too much load (safety feature). This piece has 2 built in safety mechanisms. It is always advised you keep away from pets and children and never stick your fingers in the moving parts. If you did happen to get an object stuck in between the belt and pulley (again... don't do it) the motor gears will slip back with the spring tension system and the tensioner will give way to add slack to the belt. If you are familiar with any of my other clocks, they are mostly silent. Since this 2jz piece has a stronger geared motor, you can hear a slight buzzing coming from the motor. 

This art piece will hang on a wall (recommend a wood screw directly into a stud or heavy anchor) the hanger is a cable loop that runs across the top structure pipe. 
Dimensions are: 
17" tall 11" wide and 4" depth 
FAQs
Are they made from metal?
Every timing set (gears) and piston are real. The connecting rod (part extending up from the base) and all parts that allow the gears to rotate are 3d printed in a very sturdy PETG plastic.
The clock portion is ran off a AA battery (included) and the motorized gear is ran off a USB wall adapter (included). You can also plug it into any USB slot on your computer etc.
Do you offer returns/replacements?
If there are any damages or malfunctions, I offer free parts replacement. My goal is for you to be 100% happy with your purchase. I offer returns within the first 30 days. I will also do exhanges if you would like a different clock.